Longer days and longer rides. This week included my longest ride of the year so far and my biggest weekly total too.
Ride one – Where ever the wind blows. Then back into it.
A free day forecast to be cloudy and dry. Driving between meetings last week, the satnav took me along a road I'd never driven before. Coming down it gave stunning views over the rolling countryside of County Durham with the city's cathedral standing out like a beacon. I estimated it at 500 ft and wanted to cycle up it, so that's where I headed.
I purposely headed over a few climbs to warm up – Howden le Wear to Stanley Crook, Ivesley Lane at Waterhouses, and Commercial Street in Cornsay Colliery – and down into Langley Park to face my planned foe.
Langley Lane is a Category 4 climb, which rises 500ft in the 2.7 miles it climbs from its junction with the A691 at Langley Park to Burnhope Village above Lanchester. It was a good challenge – the climb is steep and tough at points – but not a pleasant ride. The big lorries were courteous enough, but it felt like other vehicles saw me as more of a target than an obstacle to pass safely. I was relieved t reach the The old minehead wheel that is set out at the entrance to Burnhope Village.
My reward for the climb was an enjoyable seven-mile roll down through Holmside, Edmondsley, and Waldridge Country Park into Chester-le-Street. Waldridge Road took me down into Chester-le-Street. A patient transport service ambulance livened up the experience by squeezing past and cutting me up to slam on the brakes in front of me and indicate to turn right – we have to expect more from all drivers, especially those who are making a living from the activity.
Out of Chester-le-Street past the Riverside Cricket Stadium and Lumley Castle. I'm heading for Woodstone Village where I'll turn right and follow Pithouse Lane back down to Durham. Only I miss the turn and happily follow a different straight road for a few miles. I'm in Rainton Meadows before I realise I'm off track and sitting in front of a sign that offers Seaham as a destination. Well, it's a niceday, so how about a trip to the seaside? The wind carries me six miles over to Seaham.
Costa is the only cafe with somewhere to lock the bike, so 35 miles into my ride, I settle in for a coffee and a sandwich.
The ride back is harder. The tailwind out here was much stiffer than I estimated and now I'm cycling into it. The 15 miles back through East Durham to Durham City is a killer and being back on familiar territory doesn't make the 12 miles I've still got left to do feel any better.
I over-cooked the ride. 50 would have been plenty for today. I inadvertently end up doing 62 and winning myself the Strava Grand Fondo  badge for March with a 100km ride.
Ride stats: 62.7 miles; 4,438 ft; 04h 56m 24s
Ride two – Who stole the hills?
Suffolk. Easter weekend visiting family and bad weather forecast for later in the day, so I took advantage of the lightest morning we'll see for a few weeks and got out on the road early.
Out of Stowmarket I took the road that follows the Rattlesden River through the village that shares its name with the river, then Gedding and on Felsham. These were narrow country lanes cold and quiet, save for the odd Landrover or HiLux going about their gentle, early business.
The headwind had been stiff since leaving Stowmarket and turning south on Bury Road just before reaching Cockfield Great Green I faced it full on. Getting down to Thorpe Morieux (12 miles)  was hard work. And south west through Hitcham, Bildeston, Semer and Whatfield, where I turned to have the wind partially at my back travelling west to Sproughton. The lanes were pretty, the meadows alongsi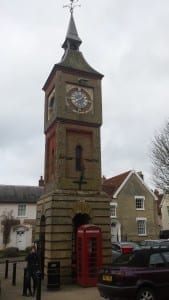 de them, the becks, streams and hedgerows all lovely. There were beautiful old cottages and big houses, churches, pubs and village halls, but for me the houses seemed too big. The lines of super luxury cars behind big electric gates seemed to have sucked the soul out of these places. I'm being harsh, but it was hard to see the obvious evidence of community that's in plain sight on my rides at home.
At Sproughton (29 miles) I turned North on the B1113 and got a turbo boost from the wind. I tracked the River Gidding up past Bramford and Great Blakenham to the lovely Needham Market, which was only mildly spoiled by a guy in an Audi TT probably enjoying being a nob by driving dangerously around a cyclist.
The final four miles took me back into Stowmarket joining the A1308 and the roads getting wider and busier on the approach to town.
Ride stats 40.2 miles; 1,065 ft; 02h 30m 53s
Week's Total: 102.9 miles; 5,503 ft; 07h 27m 17s