Rain.
It was raining hard when I woke up. It was raining hard when I went for breakfast. It didn't ease up while I was getting ready. And I took a long time to get ready. The hostel manager virtually had to kick me out.
I slept badly and felt every ounce of the tiredness I carted down from Dalwhinnie last night. And my knee was still sore. I'd got a two-litre bottle of lemonade at the shop last night to use as a makeshift foam roller and it worked wonders. But 30 minutes after setting off for Tunmel Bridge, the pain in my knee was scorching.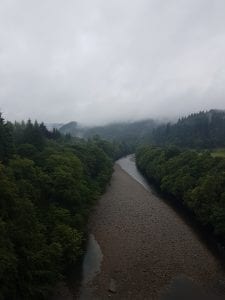 Reluctantly, I had to admit my knee wasn't going to get me over The Schiehallion and I headed back to Pitlochry for a cake to lift the spirits, regroup and replan. Crieff was the goal. I went another way. Following the valley down to Dunkeld, first on Route 7, then on Route 77.
What a wonder Dunkeld is! It's glorious. And they do very good cake.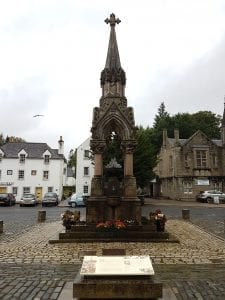 22 miles to Crieff on the A822, stopping for a few minutes every few miles to rest my knee and take in the views. Scotland does these mountain roads so well, suceeding somehow in adding to the drama of the landscape around by taming these narrow strips of it.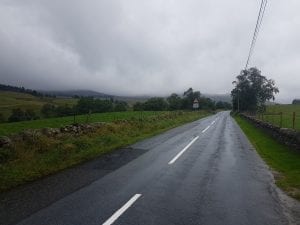 The climb teased me a few times with false summits. Then it surprised me by having all the rain, all of it, every drop in the world stored upon the other side of the mountain waiting for me. Descending the mountain was like dropping into a pool of water. I would not have been any wetter, had I fallen in the river.
I felt I'd earned a decent hotel hotel for the night and booked myself into the Knock Castle Hotel in Crieff.
48 miles and 3,131ft of hills