I left Knock Castle at 10.15, after a great night's sleep and slow breakfast. In town I was diverted by the visitor centre, the glass blowers, and – I kid ye not – Christmas! It was gone 11 when I got going properly.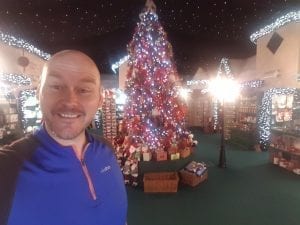 Beautiful back lanes over to Cromlix, but the hills were steep and the nemesis of my tired legs, was back: that bloody headwind! Dunblane gave me a reason to stop and flex my tourism muscles. Then Bridge of Allan. Then Stirling.
Stirling has a wonderful community bike hub based at its busy railway station. I popped in to look at the maps and walked away with a new route. Emma in the hub was helping me choose a route to Hamilton, when she mentioned the "Tak-Ma-Doon Road" as the direct route. How could I resist that name? Ok, it's steep, but these legs aren't afraid of steep. The views are stunning, Emma showed me on her computer screen. Decision made, let's go.
I wanted to push on with hope of still reaching Lanark, if weather and daylight permitted. The road from Bannockburn up past Loch Corran to Corran Bridge put paid to that. Before the Tak-Ma-Doon Road even started.
Tak-Ma-Doon went up steeply. Then up. Then up steeply. A routine it had obviously practiced, because it did it well. Then it went down. But not really down, just teasy down, straight ahead was another steep up. And at the bottom of the down, right before the up, was a slippery, momentum-sapping, stone-lined ford with a six-foot wide torrent of run-off pelting across. Wet feet, or ride through? Ride through. I slipped, but didn't fall! Then more ups. I don't know if each one got steeper. It felt like it.
From the top, the view stretches to the Forth Bridges and beyond, to the Pentland Hills, and the outskirts of Glasgow. Worth every turn of the pedals! A steep, steep down all the way into Kilsyth. I'm just glad I didn't have to go up it that way.
My day was done and with the help of Mission Control, I booked into the Glenskirlie Castle hotel, just up the road from Kilsyth.
41 miles, 3,019 ft of hills