My second good night's sleep and great breakfast in a row. Staying in castles, I could get used to this cycle-touring lark. I was feeling good when I pushed off at 9.30.  And half decent weather. All the ingredients for a good day riding. The Forth and Clyde Canal came first, then the Antonine Wall at Garnhall.
It would have been easy to drop down into Glasgow and follow the Clyde up to Lanark, so naturally I didn't. I took the wild, exposed lanes across the moorland to the east of Motherwell and Hamilton, battling the short hills and incessant bluster of the headwind. Riding under the M8 marked an official passing into Southern Scotland and, to celebrate, it rained hard for an hour.
I reached Lanark as the rain eased up having had only one piece of cake all morning. The old Tollbooth has been turned into a vistor centre and gallery, I wandered in and a fabulous chap called Ian explained all about Lanark and let me charge my phone. There was no cake.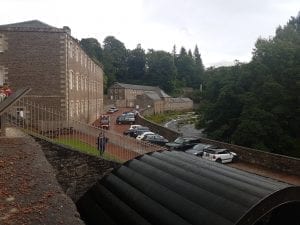 A short drop down the hill to New Lanark, the World Heritage Site on the bank of the Clyde. Truly stunning and I had to wrench myself away. I could have easily spent the day there. They make their own ice cream and cakes!
The first half of the twelve miles to Biggar were on the A73 with its unforgiving traffic trying to achieve teleportation speeds. The wind picked up, offering its more familiar challenge and I was reileved to see a cycle route sign for Biggar.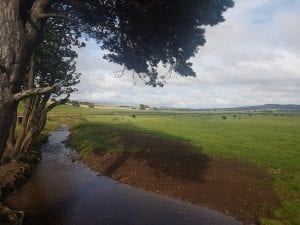 Final leg of the day, 17 miles to Peebles. Crossing from the Clyde Valley to the Tweed. There were hills, as you'd expect. In among the brightness and the dark clouds, and the promise of rain in the air, a rainbow climbed right out of the Tweed, decorating the valley ahead of me. I chased it, happily, all the way to Peebles.
Staying at The Park
65 miles, 4,086ft of hills. Five and a half hours of cycling.