Peebles in the sunshine.  Wow! What a welcome to day seven. A thriving Borders town with so much history, they leave it lying about the place. The town's war memorial is unlike any other I've seen.
I followed the signposted cycle route on back lanes tracking the Tweed downriver to Innerleithen and on to the confluence with Eltrick Water, then up river to Selkirk for lunch and a tour of Sir Walter Scott's courthouse. I diligently locked my bike to a railing outside the Courthouse and recklessly lost the key. Lynnette from the courthouse came to my rescue, finding the key where I'd stopped to take a photo of Sir Walter's statue in the town square.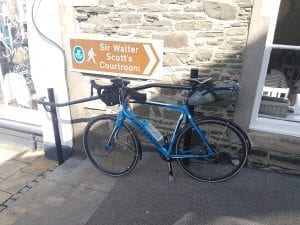 Steep climb out of Selkirk to Midlem. Sunshine and clear skies making it thirsty work. My bottle was empty by the time I reached Hawick (That's Haw-ick, or Hoik to the locals) another bustling mill town.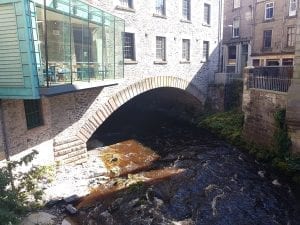 The last leg of the day was the hardest. 17 miles to Bonchester Bridge then up, up, up through the hills towards the border. At a little row of cottages in the middle of nowhere, a kind resident agreed to fill my empty bottle and wished me luck for the climb.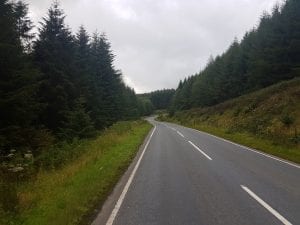 The road went up again. I passed an alpine centre! The views were glorious and the rain started as I began to drop to Saughtree. And what a gem Saughtree Station is. What a find. A restored former borders station where the owners run a B&B and their own train!
Warm and dry, knowing I was a spit from the border I settled in for my last night in Scotland.
55 miles; 3,813ft of hills