Dry and overcast through the station's waiting room window. The promise of showers on my phone. I left Saughtree after accepting my hosts' generous invitation to have a good look round the place and clamber on the engine and rolling stock.
A mile downhill is a good start for any day and the road stayed pretty much level for 10 miles. I crossed the border and found myself drinking an early coffee and watching osprey nests on cctv in the Forestry Commission's centre at Kielder Castle.
I was finding it hard. The showers predicted were intermittent downpours. The spells between included bright warm sunshine. So I had to keep stopping to adjust my clothing to the conditions. The hills around Kielder were proving more challenging than my mind told me they should have been. I couldn't find a rhythm and I was finding the whole thing a chore.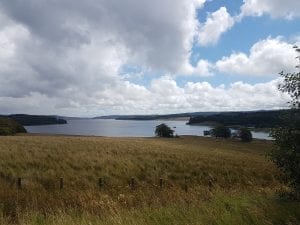 When pushing on doesn't cure that, cake can, so I stopped in the Tower Knowe visitor centre to learn something about the reservoir and have an early lunch. My sandwich was great, but it took more nearly 40 minutes to arrive and was less enjoyable for that. My early lunch had turned into a standard lunch and with a look around the visotor centre it was gone 2pm and I'd done only a third of the day's riding.
Quicker riding down the road to Bellingham, and my mojo made an aplearance for the first time in the day. I spied the signs for national cycle route 68 and started to follow them. I had to for a while and following the pointy, blue markers was easy thinking for a tired bloke.
Route 68 goes to Haltwhistle and Alston. I was headed to Haltwhistle, then Alston. I followed the signs, wondering why my planned route took me what seemed miles out of the way. An hour later, trudging up a pot-holed forest track, pushing the bike through puddles, I knew my planned route had, sensibly included roads.
Finally back on tarmac winding own through glorious countryside, I climbed asharp rise to coss Hadrian's Wall. That was a welcome milestone.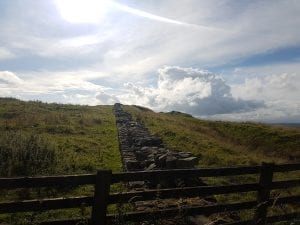 There are better times to find your brakes aren't working than when you're tired and not reacting as quickly as you might. There are better places to find your brakes aren't working than on the steep descent into Haltwhistle. I made it to the claimed Centre of Britain much faster and less elegantly than I'd have liked. But I was there!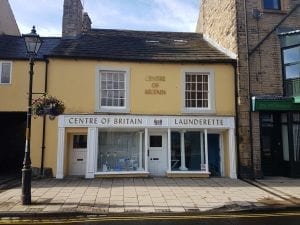 So just the last leg of my long day's cycling to go. 15 miles to Alston, whose claim to fame is… oh… it's the highest market town in England. More hills, including the impresive Bellister Bank right out of Haltwhistle. National cycle route 68 goes all the way to Alston, but I didn't fall for that again. Roads all the way for me.
I finished the day at the Alston station of the South Tynedale Heritage Railway, just a short hop from my hotel.