Alston again. Rested after taking my day off yesterday. Alston was full of C2C and Pennine Cycleway cyclists.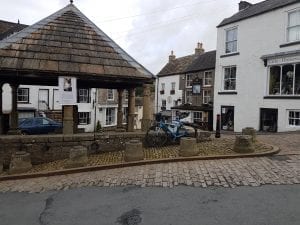 My friend John Lenton was riding with me for the morning. I rode the C2C with John in 2013. He was on a knobbly-tyred, Cube hybrid and worried he'd slow me down. I looked at his bike in all its luggage-free, low-geared glory and the hills ahead and wondered how on earth I was going to keep up.
We set off at ten to ten, climbing out of Alston. Three miles out the metalic twang of a spoke breaking in my rear wheel caused my heart to sink. I strapped the broken spoke to another, trued the wheel well enough to stop it rubbing against the frame and we were on our way again. I'd need to find a bike shop and get it fixed.
Chatting with John made the climb easier and in an hour we were at the top dodging the motorbikes who were out enjoying the roads to their fullest extent. The road is the third highest in England. The second ten miles, down into Teesdale, were quicker than the first.
We stopped at Bowlees visitor centre for coffee and cake. At Eggleston, shortly after Middleton-in-Teesdale, we thanked each other for the ride and John headed home.
Through Romaldkirk to Cotherstone and over the moors to Bowes for a stop at the Ancient Unicorn Hotel. The Dales Bike Centre near Reeth in the next Dale would be open 'til five, so I had just under three hours to cover 15 miles and 1,300ft of climbing. Lemon squeezy!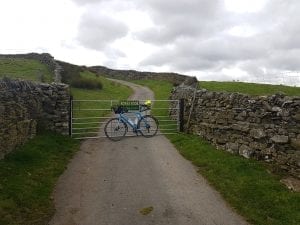 The climb towards Tan Hill was a tester. Two and a half of the six miles up were on a rough track over Sleightholme Moor. I was conscious that another mishap with the wheel would leave me walking to Reeth.
From the top of the climb, it wasn't all downhill to Reeth, but I made i9t with an hour to spare. Ian at the Dales Bike Centre fixed the spoke while I had a sandwich in the wonderful on-site cafe.
Then over Whipperdale Bank to Leyburn and a gloriously flat final ten miles to Masham
68 miles; 3,888 ft of climbing