The White Horse at Duns Tew does an excellent dinner and a cooked breakfast to match. Still full of grilled shrimps, chicken and chips, and exquisite chocolate and salted caramel dessert, I migh have had to force down my breakfast, if they hadn't put in front of me easily the best plate of scrambled eggs on toast I've had all trip.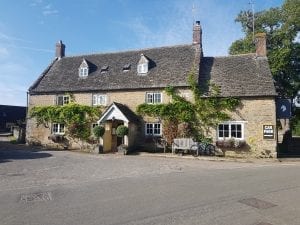 I'd planned a route down to Oxford, then following the Thames to Reading with the aim of getting past Basingstoke towards Winchester by the end of the day. It was the sensible choice, but hardly inspiring. Executive decision to head to Woodstock and across the North Wessex Downs.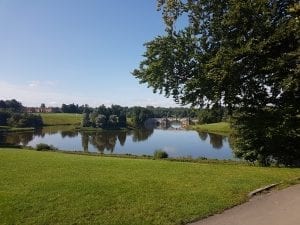 In Woodstock I caught a glimpse of Blenheim Palace through the gate, but the gate staff were having none of me cycling through the park, so to comiserate, I went to the natural bread shop for coffee and flapjack.
Rolling roads in the bright sunshine. I don't mind telling you, I was enjoying it. Past Eyesham, through Cumnor, Eaton, and Apleton, I was making good progress, the villages kept coming. At Childrey, there was a change of direction: up. If there was a down side to choosing this more direct route, it was that the Downs go up.
The route profile showed three climbs, with the Ridgeway at the top of the first and Lambourne beyond. The climb was tough in the heat, but it was steady and I kept the pedals spinning until the wonderfully breezey descent took me to lunch in Lambourne. The second and smallest of the three climbs took me over to Hungerford and out onto the common.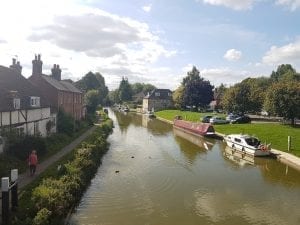 The third climb out from Inkpen over to Faccombe gave me many miles of view north over Berkshire and south over Hampshire. They were worth every turn of the pedals.
The day went downhill from there. Quickly downhill. Hurstbourne Tarrant, St Mary Bourne, Hurstbourne Priors, Wherewell, Longstock into the heart of the Test Valley at Stockbridge.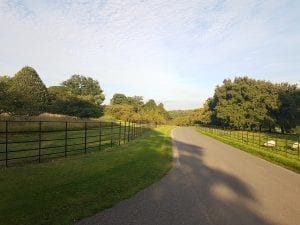 It was a beautiful evening and I had a mind to carry on. But there was a room at the White Hart, so I called it a day.
80 miles; 3,338ft of hills