Add up all the tiredness of the trip so far and mutiply it by a factor of your choosing. It's nothing compared to how I felt climbing on the bike in Stockbridge at the beginning of the day.
I followed the back lanes down the west side of the Test Valley, crossing the river at Mottisfont and following it on down Romsey.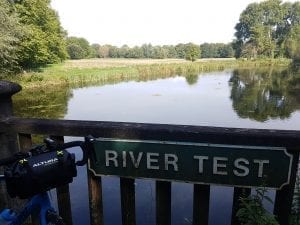 I was looking forward to the finish, but these were long miles and I wondered if I'd ever reach Southampton. At Chilworth, that changed with a gentle descent all the way down into the city centre, where I found the Bargate proudly flying the rainbow flag for Southampton Pride.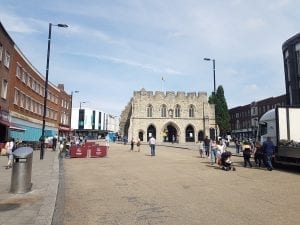 Buying my ticket for the crossing to East Cowes, I met a woman who'd looked out her window that morning and decided it looked like a good day to cycle round the Isle of Wight.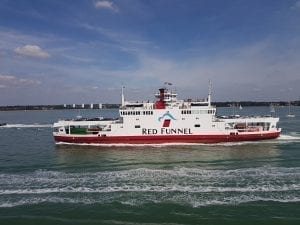 Ruth was great company and the hour or so it took to board and cross the Solent passed quickly. She cycled off on her trip round the island's 64-miles of coast roads leaving me with cheery goodbye and some welcome professional advice about strengthening the muscles around my knee.
The Medina is the tidal river that runs from Cowes to Newport. I was on the east bank and Route 23, which runs down the middle of the Island, is on its western bank. Minutes after my first ferry journey of the trip, I took my second, on the Cowes floating bridge. Route 23 is largely on dedicated, traffic-free cycleways that were fabulously busy with cyclists of all ages on a glorious afternoon.
Five easy miles later I was in Newport with only ten miles of my challenge left. The hills in the final six miles sapped every last remaining drop of energy I had. Then, framed by trees, I saw St Catherine's Lighthouse. My target. My destination. I was picked up by a wave of relief, achievement, and happiness. 926 miles, 55,000ft of hills and 15 days' pedalling after leaving Strathy Point, I floated down the steep hill as fast as the tears flowed down my face, elated to have reached my goal.
38 miles; 1,613ft of hills
(And 16 miles over to Yarmouth for the ferry back!)
More photos, keep scrolling…