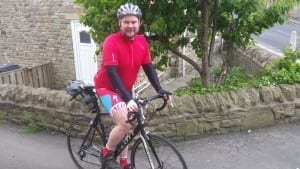 Paul is much more than your average cyclist. About five stones more. He's happy to have found a sport that lets him sit down between cake stops.
Paul lives with his partner in County Durham on the edge of the North Pennines, an area blessed with stunningly rugged landscapes and hills that are far from suitable for an overweight pedalist. It's here he has fallen in love with cycling.
He's the author of Fat Bloke on a Bike, An Unlikely Adventure.
He tweets about cycling as @PaulPedals