I reached Strathy Point lighthouse at 10.30, about an hour later than I'd wanted to, because Captain Procrastinate came to visit while I packed. I had to wrench myself away from the hotel.

As I started my adventure, it started raining. Hard and heavy, nothing like the light rain forecast by the BBC app, making the first 12 miles a hard, wet slog. I was drenched and stopped in Bettyhill for a look at the Strathnaver Museum  and the chance to dry off. There was a cafe next door. It would have been rude not to.

Strathnaver is beautiful. It took me two hours to make the gentle climb up the valley to Loch Naven into a driving headwind that was making real surf on the loch. Thankfully the rain stayed away.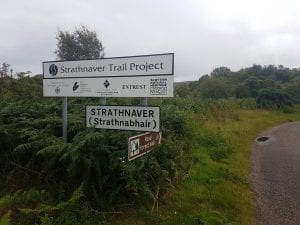 There was nothing out there. I passed no shops, pubs or cafes. A tuck shop at the Caravan Club's Altnahara site came to my rescue with a packet of Eccles cakes.
From Altnahara the road rises quickly to the top of the Crask Inn pass. Around a 1,000ft in seven miles. The wind made it feel like 20 miles and 10,000ft. And it sapped the joy from what should have been my valedictory roll down to Lairg and Invershin.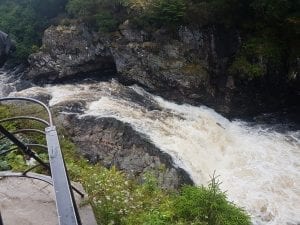 I arrived at the Invershin Hotel and Bunkhouse with a booking for the Bunkhouse and was upgraded to the hotel. A smart single room with a view over the railway viaduct to the castle. Dinner was fabulous and live music in the bar made for a wonderful evening.
67 miles in 9.5hrs. The forecast for tomorrow is a 5mph tailwind. That should make a difference.