If there were any doubt in my mind about the size of the task I've set myself for this next week, it evaporated in the mountain views that passed my train window over ten and a half hours.
The 07.24 from Durham due, after 3 changes, to arrive in Thurso at 17.50. For those of you who think Durham is in the far north, there's an awful lot of north north of Durham. In fact, there's more North north of Durham, than there is South south of it.
In Edinburgh, there was a recumbent bike taking the whole of a space meant for two bikes, so mine spent the journey to Perth getting eveyone's way. The recumbant's owner, a really pleasant guy called Rad from Leith, was was travelling to Wick for the start of a week-long ride back home.
Recumbent bikes fascinate me. I love that I've found a sport that means I can sit down until I reach cake; these guys get to lie down on the way there and back.
Rad is as enthusiastic about these bikes as every recumbent cyclist. He was great company and we exhanged stories for the entire journey.
The train didn't arrive in Thurso. At Dunrobin Castle, we were told passengers for Thurso had to get a bus. I had 2 stops to get changed into cycling gear and load the bike. Rad helped and we wished each other a good ride. He stayed on the train for Wick.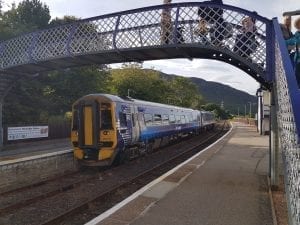 It turns out a coach ride where the driver has instructions that passengers are late for a ferry they need to catch, an hour away on narrow, windy roads, is going to be a memorable experience. It'll certainly have you reaching for a seatbelt.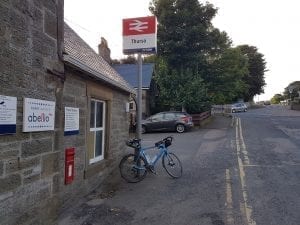 I had just 90 minutes to make it the 20 miles from Thurso to Strathy, if I wanted dinner. With headwind and hills, I just made it.
Let me recommend the Strathy Inn to you all. Heather and Craig run a fabulously friendly little pub with rooms and serve fabulous food.
Today has been an intro, a prelude, or prologue. Strathy point is three miles away. That's where I'm heading after breakfast to start this adventure properly.