Getting back on your bike after a crash isn't the easiest thing to do. I didn't ride for three months after a crash on my mountain bike in 2012, then when I did get out there were riders with tassels and stabilizers who had more confidence than me. It took months of riding and eventually a new bike (any excuse!) to get my confidence and roadcraft back to useful levels.
It's generally no more than a loss of confidence that takes time to rebuild. And sometime a push helps.
My sister got into cycling earlier this year and has been making really good progress, regularly getting out for 30 miles and more. A few weeks ago she hit the deck hard after a saddle bolt sheared and she lost her balance. She spent a few days in hospital with head and facial injuries and and assortment of scrapes bruises and other fractures – I thought some big-brother encouragement would help, even in middle age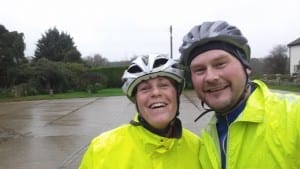 , so I slung the bike on my new Saris Bones car rack and headed down to Wiltshire.
We started out in the pretty little village of Whiteparish on the edge of the New Forest National Park. A short stint on a very wet A27 through the village's attractive mismatch of ivy-covered cottages and down a lane to cross the A36 into the Forest. Narrow, twisting lanes with high hedgerows, high banks and tall trees – the kind where a deer is likely to pop out at any point – took us to up to Redlynch. Wet lanes covered in grit and gravel washed out by the rain didn't make ideal conditions for someone on their first ride after a crash, but she looked confident and I was probably more worried for her than she was.
Long, mostly level road out across the forest and the rain was really coming down. My sister complaining that her lack of bike time made her unfit. We joined the Fordingbridge to Cadnam road for a mile, it's designated a B road, but is busy and treated like a trunk road by the traffic using it, so we cycled single file for the mile or so up to a crossroads where we turned back  to Nomansland down the hill Pipers Wait – steep and twisty, be warned – and on to Landford.
An unpleasant mile and a half on the A36 (the route suggested here is amended to avoid that) took us back to Common Road and into Whiteparish. A thoroughly enjoyable wet ride in lovely countryside.
The Book
Distance – 18 Miles
Profile – Easy: 550ft
Starting at All Saints Church in Whiteparish, take the 27 west through the village for 1/3 mile. Turn South on Newton Lane, cross A36 to Moor Lane and continue to the end. At The junction, turn right signposted Downton/Redlynch and follow the road to the top of Bowers Hill at Woodfalls; turn left. Follow the B3080 through Woodfalls and onto Forest Road towards Cadnam. Three miles to the junction with B3078 and go straight on for another mile to the crossroads at the top of the hill signposted Landford/Nomansland, turn left. Steep incline warning for the hill at Pipers Wait, through Nomansland past the Lamb Inn and to the crossroads signposted Salisbury/Lyndhurst. Turn Left (North) towards Landford. After a mile you'll reach a junction signposted Hamptworth Golf and Country Club, turn left (West) and follow the road for three miles back to the junction signposted Whiteparish. Turn right (North) and retrace your path along MoorLane, across the A36 and Newton Lane to join the A27 back into Whiteparish.
Where to Park
We started in Whiteparish, because it was easy to get to from the A36. There's plenty of on street parking and All Saints Church in the centre of the village has a large car park.
Places to eat
Whiteparish has the King's Head and Parish Lantern pubs. Both serve food every day
Woodfalls Inn at Woodfalls near Redlynch on the route has a great menu and good coffee
The Lamb Inn at Nomansland serves a great menu and fabulous beer. Ample parking here makes it a good alternative start/finish point.
We started out with a flapjack and a coffee from the friendly people in Whiteparish Post Office across the road from the church.